Toesocks For Hiking and Backpacking
A must-have item for every hiking and backpacking trip is a pair of durable hiking socks that prevents blisters and wicks moisture. When you are spending long days on your feet navigating uneven terrain, it is essential to make sure your feet and toes are taken care of with high quality socks and boots. Regular socks absorb and hold onto sweat, which can combine with skin-on-skin friction and heat from repetitive footsteps to create painful blisters and hotspots. Injinji offers the best quick drying socks for hiking and backpacking, so you can take on the summit without the threat of discomfort slowing you down. Bonus – all of Injinji's hiking socks are also anti blister hiking socks. Whether you are looking for thin hiking socks or thick socks for backpacking, there is a great option in the Injinji lineup for every preference.
The Benefits of Injinji Hiking Socks
Blister Prevention - Injinji's anti-blister hiking socks offer a five-toe sleeve fit that wraps each toe in moisture wicking fabric. With your toes separated, skin-on-skin friction is completely eliminated, and your feet are protected from blisters and hot spots while you hike.
Moisture Management – Injinji's moisture wicking hiking socks are made with high quality materials that work to keep your feet comfortable and blister free, including COOLMAX EcoMade and Merino wool. COOLMAX EcoMade is a recycled polyester engineered to quickly wick away sweat, leaving your feet feeling cool and dry. A natural fibre from sheep, Merino wool is packed with natural benefits, including efficient moisture wicking, odour resistance, and breathability. No matter which Injinji hiking socks you choose, you can trust that they will be wicking away sweat with every stride.
Total Foot Utilisation – Injinji's anatomically designed hiking socks give your feet and toes freedom by separating them into individual sleeves. When your toes are separated, properly aligned and splayed, your weight is distributed evenly which allows your entire foot to be engaged every step of your hike
Before Hitting The Trail
Injinji socks come in a variety of weights (thicknesses), heights and styles for a range of personal preferences, levels of activity and weather. Here are some things to keep in mind when selecting good hiking socks for your next adventure.  
Choosing Hiking Sock Thickness 
Thin Hiking Socks - Some hikers seek out lightweight socks, for a low profile feel that is quick drying. If you are looking for thin hiking socks, you're going to love Injinji's Liner series. These lightweight options are the perfect warm weather hiking socks and can easily be layered with an outer sock to prep for cooler temperatures or to add cushion on rocky trails.
Thick Hiking Socks - If you are looking for thick socks for hiking and cushioned backpacking socks, you're sure to find your perfect pair with Injinji's cushioned hiking socks. Hikers look for extra cushion for a few reasons: to protect their feet on rough terrain, and to increase warmth and comfort in cool temperatures. Injinji's thick, cushioned hiking socks include the Men's Liner + Hiker Crew, the Women's Liner + Hiker Crew, the Outdoor Midweight Crew and the Outdoor Midweight Mini-Crew.
Choosing Hiking Sock Height 
Mini-Crew Hiking Socks – The Mini-Crew sock height is a great choice when you need low coverage. The cuff of Mini-Crew socks hits right above the ankle and fits securely to keep out dust and gravel. If you like the Mini-Crew style, check out the Outdoor Midweight Mini-Crew sock.
Crew Hiking Socks – The Crew sock height is perfect for those who are seeking more coverage from their hiking socks. Hikers who are walking through thick brush will appreciate the mid-calf coverage, which keeps branches from scratching your skin, and seals out dirt and sand. If you like the Crew style, check out the Liner series, Hiker series, and the Outdoor Midweight Crew sock.
Choosing Hiking Socks For Different Seasons
The Best Hiking Socks For Summer – The Injinji Liner Crew and Liner Crew Wool are the top two best hiking socks for summertime. These ultra-thin baselayer socks are made with moisture wicking materials that quickly wick sweat away from your feet on hot days, leaving you feeling cool and dry for miles. If you'd like to add a layer of cushion, add an outer sock atop the Liner, such as the Injinji Hiker sock.
The Best Hiking Socks For Fall – Injinji makes a variety of hiking socks for cool weather and dropping temperatures. The Liner + Hiker two sock system (available in Men's and Women's specific sizes) layers a baselayer sock and an outer sock together for optimum comfort, cushioning and increased warmth in cool weather. The Outdoor series leverages the temperature regulating power of Merino wool, which helps to keep your feet warm in the cold.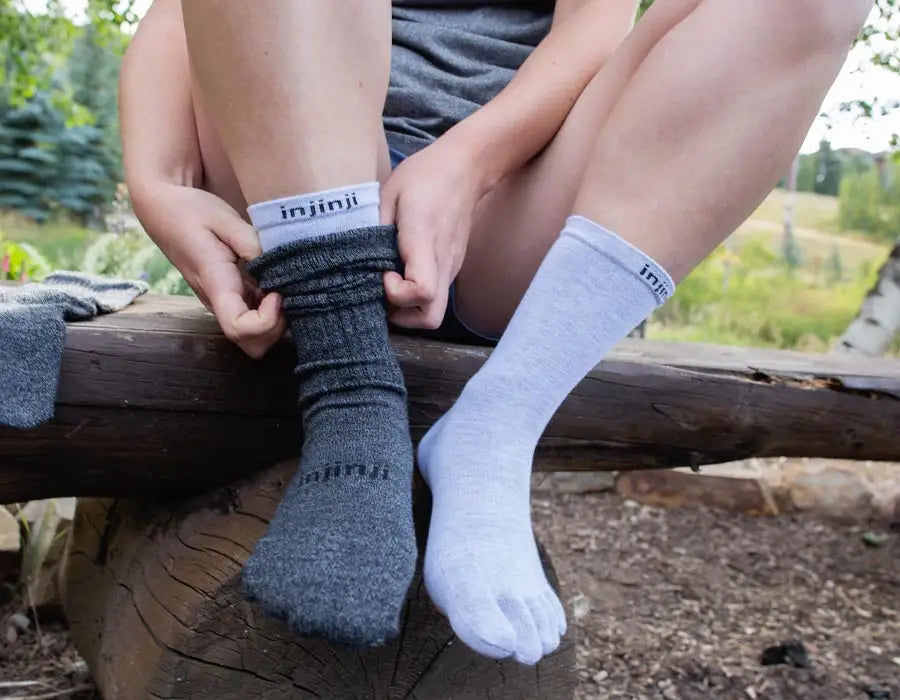 Liner Series – Baselayer Hiking Socks
Injinji's Liner socks are the ultimate baselayer toesocks for hiking and backpacking. These ultra-thin crew hiking toesocks can be worn solo as summer hiking socks or layered up for added cushion and protection. Equipped with an ultra-thin ergonomic fit, the Liner socks stays put through dynamic movements, and won't bunch up or slip under your outer socks. The Liner socks are available in two high performance sweat-wicking fibres, Merino wool and COOLMAX EcoMade. Both of these moisture wicking materials quickly evaporate sweat and allow your foot to breathe, while Merino wool packs in the additional benefits of powerful odor resistance and temperature regulation. The five-toe design forms to the contour of your foot, allowing for natural, restriction-free movement. With each toe separated skin-on-skin contact between the toes is eliminated, helping to prevent blisters. The versatility of the Liner hiking socks makes for the perfect backpacking socks, and they are often trusted by thru-hikers taking on the Appalachian Trail and the Pacific Crest Trail. 
Hiker Series – Two-Sock System For Hiking



The Liner + Hiker is a two-sock system that provides advanced blister protection, moisture management and comfort for hiking and backpacking. Layer one is Injinji's ultra-thin Liner sock, which works to wick away sweat, eliminate blisters, and lets you utilise your entire foot and toes. Layer two is the Hiker sock, which is uniquely designed to integrate with the Liner. The Hiker does not have toe sleeves, but instead is tailored to fit along the contour of your toes, comfortably layering atop the Liner sock. The Hiker sock provides extra cushion underfoot and around the toes, resists odours, and helps regulate your foot's temperature in hot or cold conditions. The Crew height seals out pesky dirt and dust. If you are looking for women's hiking socks or men's hiking socks specifically, the Liner + Hiker two-sock system is available in sizes tailored for each: the Women's Liner + Hiker Crew and the Men's Liner + Hiker Crew.

HTML

Shop Men's Hiker



Shop Women's Hiker
Outdoor Series – Midweight Hiking Socks
Injinji's Outdoor socks are built for foot travel across any kind of terrain from day hikes to backpacking trips. Made from Merino wool with Injinji's anatomical five-toe design, the Outdoor hiking toesocks eliminate blister-causing skin-on-skin friction, help promote a natural toe splay, and free you to use your entire foot for comfort and confidence on rugged trails. Midweight padding under your foot absorbs shock, arch support is built-in, and mesh at the top keeps your feet cool. The cuff designs – Crew and Mini-Crew – stay in place to seal out trail debris. If you are looking for warm hiking socks, the Outdoor socks are great choice. The temperature regulating qualities of Merino wool make these socks the perfect winter hiking socks—and the perfect summer hiking socks—as the fibres help to keep your feet warm in the winter and cool in the summer. The Merino wool fibres also quickly wick away moisture, resist bad odours, and offer a soft and breathable fit.  
Frequently Asked Questions
What type of socks are best for hiking?
Moisture wicking and blister preventing toesocks are the best socks for hiking. Regular socks absorb sweat, which when combined with heat and friction can lead to uncomfortable blisters and hotspots. Your hiking socks should be working to prevent discomfort, not create it. Injinji makes anti-blister hiking socks that wrap each toe in moisture wicking fabric, effectively eliminating skin-on-skin friction and evaporating sweat, making them the best choice for hikers and backpackers.  
Why do hikers wear thick socks?
Hikers wear thick socks to protect their feet and toes from the variable terrain experienced on trails. Rocks, gravel, and roots are often encountered when hiking, and even with protective hiking boots, your feet can still take a beating trying to navigate the changing landscape. Injinji's thick hiking socks integrate targeted cushioning underfoot and below your toes to soften the repeated impact of miles of hiking, for ultimate comfort and protection.  
What are the best hiking socks to prevent blisters?
Injinji's hiking toesocks are the best hiking socks to prevent blisters. Blisters are caused by a combination of heat, friction and moisture inside of the sock. Injinji toesocks wrap each toe in sweat wicking material, eliminating moisture and skin-on-skin friction from the equation, and allowing your feet more freedom to move comfortably.  
What's the difference between hiking socks and regular socks?
There are a few major differences between hiking socks and regular socks. The first is moisture management, regular socks soak in and retain moisture which can lead to painful blisters. Injinji hiking socks are made with moisture wicking materials to efficiently evaporate sweat, leaving your feet feeling cool and dry. The second is anti-blisters and blister protection, regular socks are not designed to undergo high impact movement and allow your toes to constantly rub against one another— this relentless friction is another contributing factor to blisters. Injinji hiking socks are anatomically designed and wrap each toe in fabric to prevent blister-causing friction. Injinji hiking socks are the best hiking socks to prevent blisters. Finally, regular socks often squish together your feet and toes, limiting your dexterity. By giving your toes their own individual sleeves, Injinji hiking socks allow your feet and toes to splay and align naturally. This total foot freedom gives you a better feel for the ground.
Why do hikers wear two pairs of socks?
Hikers and backpackers wear two pairs of socks to prevent blisters and increase cushion. Often, each sock is designed with its own unique purpose, like with the Injinji Liner + Hiker two-sock system. The baselayer sock is lightweight and low profile, fitting comfortably beneath the outer sock. Its job is to wick away moisture and separate the toes for blister prevention and total foot utilisation. The outer sock is thicker, with strategically targeted cushion underfoot. This sock adds comfort and protection across diverse and technical trails.